Why Travel with huaXteca.com ?
---
At huaxteca.com…where even the dog has fun! since we initiated this project, we committed our lifestyle in such a way that when you travel with us you can feel how much we love taking you to discover, taking you to see, taking you to live. Our staff is carefully selected so that they treat you as you deserve. All the participants are young people who are experts in the disciplines that they will take you to practice.
We comply with the official norms for adventure tourism NOM-011-TUR-2001 and NOM-09-TUR-2002, for your safety.
Huaxteca.com won THE 2010 NATIONAL RECOGNITION FOR THE DIVERSIFICATION OF THE MEXICAN TOURISTIC PRODUCT in the category of Nature Tourism, a recognition that is given by the Secretariat of Federal Tourism and the Council of Touristic Promotion of Mexico to businesses with sustainable quality projects at a national level.
---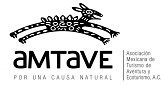 Members of AMTAVE. We form part of the Mexican Tourism Association of Adventure and Ecotourism (AMTAVE), the same where the operators of adventure and ecotourism of Mexico meet to bring us up to date, approve criteria and modernize services for you.
---
Members of IRF. We are the only business in Mexico, where all of our river descent guides are evaluated by the IRF (International Federation of Rafting), complying with international standards for rafting that guarantees safety during the tours so that you have an excellent experience while rowing.
---
ATTA Member. To belong to ATTA since 2013 is a privilege that only the best businesses in each region can obtain. To travel with a company that is a member of ATTA, is synonymous with guarantee of service quality, especially in Mexico. Businesses that are members of ATTA represent a community that is growing with more than 900 responsible companies, profitable and organized. These businesses also represent destinations and press that transforms clients and businesses within the model of sustainability and tourism justice in the world. The members of ATTA extend through 6 continents and belong to more than 60 countries, where tour operators, organizations responsible for marketing of a destination, tourism offices, specialized travel agents, guides, lodging locations, press, and service providers are all included.
---

At huaxteca.com we have the distinction M (Distintivo M). This distinction is a program supported by the Secretariat of Federal Tourism, and it guarantees that the business who has this distinction counts on parameters and standards of quality that can guarantee the well being of the collaborators, the client's satisfaction, and that it is a profitable company for its shareholders, and complies with its respective social responsibility.
After each trip we give you the opportunity to express yourself through our evaluation sheet so we may know your concerns and your point of view. This has allowed us to redesign and adapt our trips for your best comfort.
Each time that you visit us, we want you to feel part of our family and that you not only take with you the image of the landscape, but also the images of coexistence, smiles, and kindness of our personnel.
When we invite you to share food in the middle of nature, you will have the comfort of tables, chairs, table linen service, as well as a sanitary management of the food.
We have the best material equipment in Latin America for performing Adventure Activities.
We want you to return! And that you also recommend us to your family and friends because we would all like to show them what you lived.